Info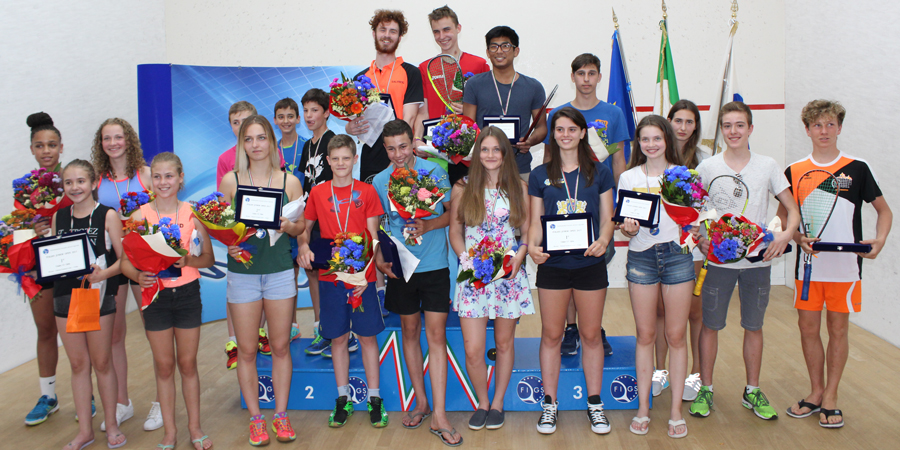 18/06/2017 - FINAL RESULTS
BU13
1 - Philip Georgiev (BUL)
2 - Antonin Romieu (FRA)
3 - Romeo Bily (FRA)
GU13
1 - Riana Alexova (CZE)
2 - Leila Hirt (SUI)
3 - Sara Nedic (SLO)
BU15
1 - Marek Panacek (CZE)
2 - Karim Farrag (CZE)
3 - Luis Grubel (GER)
GU15
1 - Chukwu Chinyere (HUN)
2 - Klara Kohlerova (SVK)
3 - Moa Bonnemark (SWE)
BU17
1 - David Maier (LIE)
2 - Miguel Mathis (SUI)
3 - Bendeguz Kamocsai (HUN)
GU17
1 - Cristina Tartarone (ITA)
2 - Selena Georgieva (BUL)
3 - Michaela Cepova (SUI)
BU19
1 - Viktor Byrtus (CZE)
2 - Ondrej Vorlicek (CZE)
3 - Sanjay Jeeva (BEL)
GU19
1 - Sarah Ludin (SUI)
2 - Denisa Rohunova (CZE)
3 - Katarina Glavic (AUT)
Soon online the photogallery
15/06/2017 - LIVE STREAMING & RESULTS
Follow the Italian Junior Open Live on www.federsquash.tv
14/06/2017 - DRAWS ARE ONLINE

Once again the tournament is confirmed as one of the most appreciated of the entire European Junior circuit; in this edition will be attended by 175 athletes, increasing compared to 2016, despite the defection of the USA, who had participated in the past few years with a significant number of athletes.
26 different countries of origin of European and extra European athletes, with the first participation received from Russia and Canada.
The Italian athletes are also very excited, with 26 athletes participating, among them the Italian Junior Champions Federico Belvedere, Mattia Mulazzani, Lily Taylor-French and Lotti Taylor-French.
High level of players entered, with the best athletes in the European junior rankings, such as Czechs Viktor Byrtus and Marek Panacek, Bulgarian Philip Georgiev, Hungarian Hannah Chukwu and Belgian Sanjay Jeeva.
Huge organizational effort of the Italian Squash Federation, which will have to run a tournament with high rhythms of play, with more than 380 matches scheduled from Thursday (first rounds) to Sunday (finals).
The tournament is broadcast live on the Figs web-tv at www.federsquash.tv
09/06/2017 - START TIMES AND SEEDING
On-line the start times and seedings for Italian Junior Open 2017.

All players must check-in at the tournament desk, before their first scheduled match.

As requested by ESF Junior Circuit Guidelines, the draws will be published at the start of the event, Thursday 15th june.

All matches scheduled on the Gallery court will be broadcasted in live streaming, from Thursday 15 to Sunday 18, on FIGS Web-Tv at www.federsquash.tv
31/05/2017 - ENTRY LIST AND STARTING TIMES
Online the list of entries at the following link: http://www.europeansquash.com/sport/events.aspx?id=16FE3133-0220-4CF9-B71C-EBC7025F0AE8

Due the huge number of entries received, as specified in the invitation, the tournament will start in the late afternoon of Thursday 15th June 2017.

These are the indicative starting times for each age group:

- BU13: 17.30
- GU13: 17.30
- BU15: 16.00
- GU15: 17.30
- BU17: 19.00
- GU17: 17.00
- BU19: 18.00
- GU19: 19.00

Definitive first time matches and final seedings will be published on Friday 9 June 2017
07/03/2017 - INVITATION AND ENTRY FORM
On-line the invitation and the entry form for the Italian Junior Open 2017, European Junior Circuit Grand Prix event, that will be held in Riccione, at Figs National Technical Centre, from 16th to 18th June 2017.

Category Under 19, boys and girls, will also earn points to the PSA World Rankings and WSF Junior rankings.

Deadline for entries is Sunday 28th May 2017

Looking forward to meet you all in Riccione!

Kind Regards

Davide Babini
IJO2017 Tournament Director
Questo indirizzo email è protetto dagli spambots. È necessario abilitare JavaScript per vederlo.