Info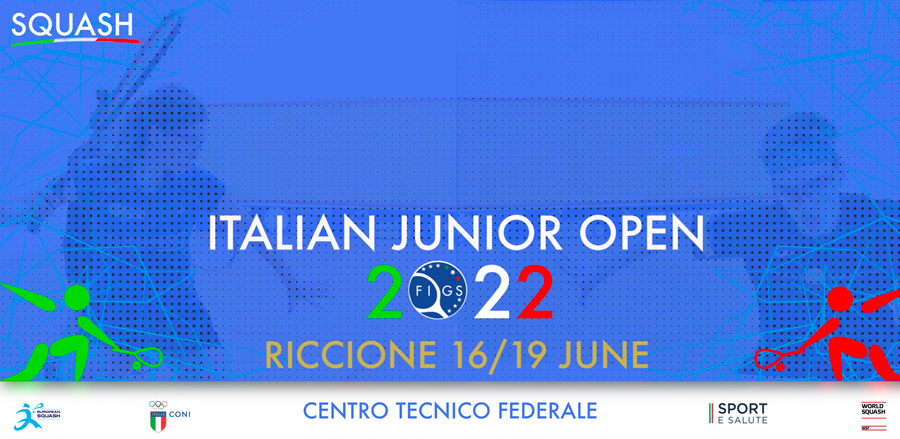 16/06/2022 - LIVE STREAMING AND RESULTS
LIVE STREAMING
15/06/2022 - DRAW IS ONLINE!

On-line the draws of the Italian Junior Open 2022.
Due the record number of entries received (231 players), we will have a very tight programme, with 532 matches scheduled.
We decided to accept all players - even if this meant reaching the limit of our court capacity - not to penalize the many friends who have always participated in previous years with large groups of players.
In some cases, while guaranteeing all players a minimum of 3 matches, we haven't scheduled some matches in the consolation draws. This affects the semifinals and finals of pos. 19-32 of BU13, BU15 and BU17, and the finals for the 11th and the 15th for all age groups.
If, during the running of tournament, some free slots become available, some of these matches will be re-scheduled.
Please help our officials and referees to have a smooth event by being on time to your matches and helping with refereeing matches.
16/05/2022 - RECORD OF ENTRIES - THE TOURNAMENT WILL START ON THURSDAY JUNE 16TH
"Dear Friends,
After two very tough years without our most important event of the season, in 2022 the Italian Junior Open returns with great enthusiasm.
There will be many friends, old and new, coming from across Europe who can't wait to play in our event.
2 weeks before the closing date we have already received a record 215 entries, and more are expected to come!
To signal that squash has made a great comeback after two tough years of restrictions we would like to accept all the entries and give everyone that wants to play the opportunity to do so.
For this reason it is necessary to start the tournament on the morning of Thursday 16th June - with a limit of 240 entries.

We therefore kindly ask you to organize accordingly; after the closing date (Mat 29th) we will be more accurate about the start times for each group and we will keep you updated on all the news.
In the meantime we would like to thank you... We look forward to seeing you all in Riccione!!!
Kind Regards,
Davide Babini
IJO2022 Tournament Director
Questo indirizzo email è protetto dagli spambots. È necessario abilitare JavaScript per vederlo.
03/03/2022 - INVITATION AND ENTRY FORM
On-line the invitation and the entry form for the Italian Junior Open 2022, European Junior Circuit Grand Prix event, that will be held in Riccione, at Figs National Technical Centre, from 17th to 19th June 2022.

Category Under 19 and Under 17, boys and girls, will also earn points to the PSA World Rankings and WSF Junior rankings.

Deadline for entries is Sunday 29th May 2022
IMPORTANT INFORMATION - ESID
All players, coaches, managers and other officials must be registered with ESF. This must be approved and validated by the relevant MNF. The MNF is responsible for ensuring that all players, coaches, managers and other officials are registered with ESF prior to entry, and their entry is fully supported.
Register for a ESID through the ESF tournament software website: https://esf.tournamentsoftware.com/member/createorganizationaccount.aspx?id=8B5D0106-404D41C3-B2FB-E6FE1BCEAB52
COVID-19 INFORMATION
You can find the latest info on the Italian Covid situation on this website: https://www.salute.gov.it/portale/nuovocoronavirus/dettaglioContenutiNuovoCoronavirus.jsp?lingua=english&id=5412&area=nuovoCoronavirus&menu=vuoto
Looking forward to meet you all in Riccione!
Kind Regards

Davide Babini
IJO2022 Tournament Director
Questo indirizzo email è protetto dagli spambots. È necessario abilitare JavaScript per vederlo.